Rock Springs Baptist Church is located on Upper Crabtree Road, in Crabtree, North Carolina. This is near Waynesville, and is best accessed by traveling I-40 to Waynesville. Take exit 24 from I-40. Heading west, the sign looks like this...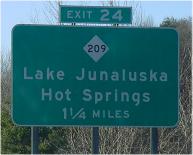 Turn right at the end of the ramp if you were heading west on I-40, or left if you were heading east. You will then be on Highway 209 North.

You need to travel 2.2 miles on Highway 209 North, then you will come to the Upper Crabtree Road. You will see on your left the Crabtree Fire Department then the Waste Disposal Convenience Center just before you come to Upper Crabtree Road on the right. The intersection with Upper Crabtree looks like this...


Turn right onto Upper Crabtree Road. This is a very narrow, winding road in beautiful countryside. The church is on the right 2.4 miles from the intersection. This is the church...